Research Article
Comparative Analysis of Alternative Splicing Events in Foliar Transcriptomes of Potato Plants Inoculated with Phytophthora Infestans
Department of Chemical and Biological Sciences, Youngstown State University, OH 44555, USA

Author

Correspondence author
Computational Molecular Biology, 2023, Vol. 13, No. 1 doi: 10.5376/cmb.2023.13.0001
Received: 08&nbspOct., 2022 Accepted: 21&nbspDec., 2022 Published: 29&nbspJan., 2023
© 2023 BioPublisher Publishing Platform
This is an open access article published under the terms of the
Creative Commons Attribution License
, which permits unrestricted use, distribution, and reproduction in any medium, provided the original work is properly cited.
Preferred citation for this article:
Lee J.A., and Min X., 2023, Comparative analysis of alternative splicing events in foliar transcriptomes of potato plants inoculated with Phytophthora Infestans, Computational Molecular Biology, 13(1): 1-8 (doi: 10.5376/cmb.2023.13.0001)
Abstract
Alternative splicing (AS) is a common process during gene expression of plants in coping various biotic or abiotic stresses. The work reports identification and analysis of AS events in foliar samples of two potato lines, including a wild type line and a pathogen resistant transgenic line (+RB), inoculated with Phytophthora infestans. After combining all RNA-seq data collected from 36 samples, a total of 10,246 AS events were identified, including 1,563 exon skipping, 1,368 alternative donor sites, 3,091 alternative acceptor sites, 884 intron retention, and 3,340 complex events, which consisted of more than one basic event. These AS events were generated from 45,874 isoform transcripts expressed from 13,704 genes. It was estimated 30.2% of genes undergoing AS in this analysis. Furthermore, we identified 406 specific AS events, which were generated from 281 genes, and 766 differentially expressed transcripts (DETs) in the sample collected 24 hours after inoculation of P. infestans in +RB lines. These DETs were expressed from 763 genes, and among them, 338 genes were alternatively spliced. These results indicate that both AS and differential gene expression may contribute to the resistance against P. infestans in +RB line of potato plants.
Keywords
Alternative splicing; RNA sequencing; Transcriptome; Phytophthora infestans; Blight pathogen
---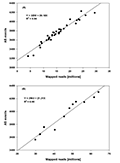 Figure 1 Correlations of mapped reads and the number of alternative splicing events in tomato foliar transcriptome samples
Note: (A) data from individual transcriptome samples; (B) data from 12 treatments with bio-replicates merged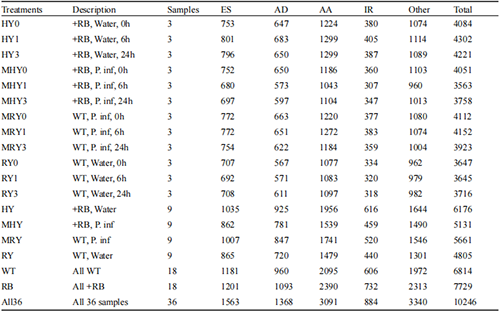 Table 1 Classification of alternative splicing events identified in different treatments of two lines of potato plants
Note: ES: exon skipping; AD: alternative donor; AA: alternative acceptor; IR: intron retention; P. inf: Phytophthora infestans inoculated

Figure 2 Comparison of alternative splicing events of foliar transcriptomes sampled at 24 hours after inoculation with P. infestans and water as controls in wild type and +RB lines of potato plants

Table 2 Identification of differential expressed transcripts in two lines of potato plants pre- or post- inoculation of P. infestans

Figure 3 Differentially expressed transcripts identified in foliar samples collected at 24 hours post-inoculation with P. infestans or water as controls in two lines of potato plants
XJM designed the experiments. JAL collected and processed RNA-seq data for genome mapping and alternative splicing identification. Both JAL and XJM analyzed the data and prepared the manuscript.
The work was supported by the Youngstown State University Research Professorship award and reassigned time for scholarship from College of Science, Technology, Engineering, and Mathematics to XJM. The Ohio Super Computer Center was acknowledged for providing resources for data processing.
Anne-Sophie B., Peter E.H., Anne M., Robbie W., and Gordon C.M., 1996, Exon skipping induced by cold stress in a potato invertase gene transcript, Nucleic Acids Research, 24(12): 2347–2351
PMid:8710506 PMCid:PMC145944
Cao W., Gan L., Wang C., Zhao X., Zhang M., Du J., Zhou S., and Zhu C., 2021, Genome-wide identification and characterization of potato long non-coding RNAs associated with Phytophthora infestans resistance, Front. Plant Sci., 12: 619062
PMid:33643350 PMCid:PMC7902931
Chaudhary S., Khokhar W., Jabre I., Reddy A. S., Byrne L. J., Wilson C. M., and Syed N. H., 2019, Alternative splicing and protein diversity: plants versus animals, Front. Plant Sci., 10: 708
PMid:31244866 PMCid:PMC6581706
Chu Y., and Corey D.R., 2012, RNA sequencing: platform selection, experimental design, and data interpretation, Nucleic Acid Therapeutics, 22(4): 271-274
PMid:22830413 PMCid:PMC3426205
Clark S., Yu F., Gu L., and Min X. J., 2019, Expanding alternative splicing identification by integrating multiple sources of transcription data in tomato, Front. Plant Sci., 10: 689
PMid:31191588 PMCid:PMC6546887
DeYoung B.J., and Innes R.W., 2006, Plant NBS-LRR proteins in pathogen sensing and host defense, Nat. Immunol., 7(12): 1243-1249
PMid:17110940 PMCid:PMC1973153
PMid:30793051 PMCid:PMC6370574
Foissac S., and Sammeth M., 2007, ASTALAVISTA: dynamic and flexible analysis of alternative splicing events in custom gene datasets, Nucleic Acids Res., 35: W297–299
PMid:17485470 PMCid:PMC1933205
PMid:27441721 PMCid:PMC4956046
PMid:23702331 PMCid:PMC3674932
Gassmann W., 2008, Alternative splicing in plant defense, Curr Top Microbiol Immunol., 326: 219-233
PMid:18630755
Kim D., Pertea G., Trapnell C., Pimentel H., Kelley R., and Salzberg S. L., 2013, TopHat2: accurate alignment of transcriptomes in the presence of insertions, deletions and gene fusions, Genome Biol., 14: R36
PMid:23618408 PMCid:PMC4053844
Kim E., Magen A., and Ast G., 2007, Different levels of alternative splicing among eukaryotes, Nucleic Acids Res., 35: 125–131
PMid:17158149 PMCid:PMC1802581
Marsh J.T., Sullivan S., Hartwell J., and Nimmo H.G., 2003, Structure and expression of phospho enol pyruvate carboxylase kinase genes in Solanaceae. a novel gene exhibits alternative splicing, Plant Physiol., 133(4): 2021-2018
PMid:14630963 PMCid:PMC300753
Nicolas M., Rodríguez-Buey M.L., Franco-Zorrilla J.M., and Cubas P., 2015, A recently evolved alternative splice site in the BRANCHED1a gene controls potato plant architecture, Curr. Biol., 25(14): 1799-1809
PMid:26119747
Potato Genome Sequencing Consortium, 2011, Genome sequence and analysis of the tuber crop potato, Nature, 475(7355): 189-195
PMid:21743474
Reddy A.S., Marquez Y., Kalyna M., and Bartab A., 2013, Complexity of the alternative splicing landscape in plants, Plant Cell, 25: 3657-3683
PMid:24179125 PMCid:PMC3877793
PMid:21107652
Sharma S.K., Bolser D., de Boer J., Sønderkær M., Amoros W., Carboni M. F., D'Ambrosio J. M., de la Cruz G., Di Genova A., Douches D. S., and Eguiluz M., 2013, Construction of reference chromosome-scale pseudomolecules for potato: integrating the potato genome with genetic and physical maps., G3 (Bethesda, Md.), 3(11): 2031-2047
PMid:12872003 PMCid:PMC170883
Staiger D., and Brown J.W., 2013, Alternative splicing at the intersection of biological timing, development, and stress responses, Plant Cell, 25: 3640-3656
PMid:24179132 PMCid:PMC3877812
Trapnell C., Williams B.A., Pertea G., Mortazavi A., Kwan G., Van Baren M. J., Salzberg S. L., Wold B. J., and Pachter L., 2010, Transcript assembly and quantification by RNA-Seq reveals unannotated transcripts and isoform switching during cell differentiation, Nat. Biotechnol., 28: 511-515
PMid:20436464 PMCid:PMC3146043
PMid:14675451
Computational Molecular Biology
• Volume 13
View Options
.
PDF(535KB)
.
HTML
Associated material
.
Readers' comments
Other articles by authors
.
Jessica A. Lee

.
Xiangjia Min

Related articles
.
Alternative splicing

.
RNA sequencing

.
Transcriptome

.
Phytophthora infestans

.
Blight pathogen

Tools
.
Email to a friend
.
Post a comment